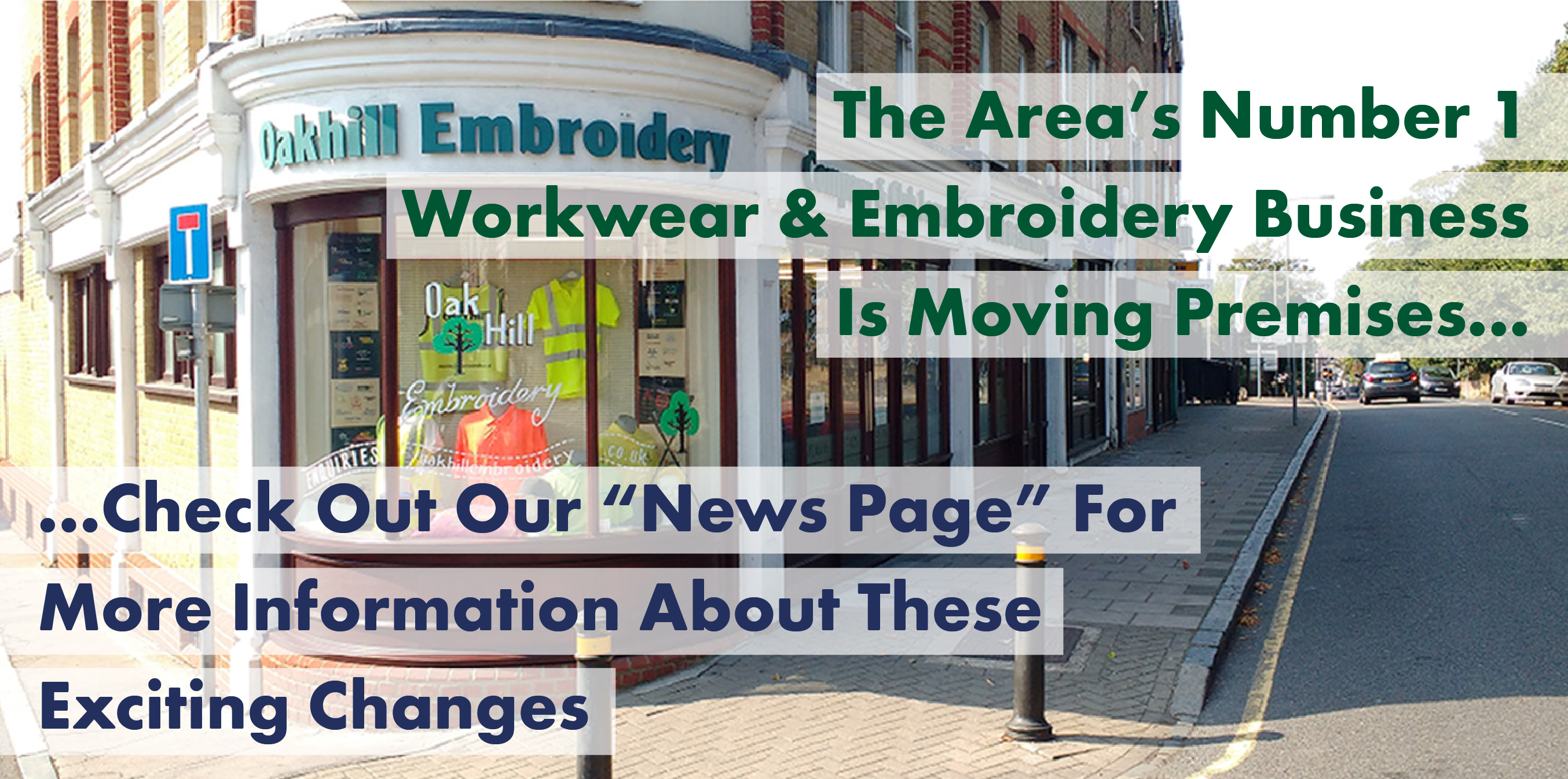 The Area's Number 1 Workwear & Embroidery Business Is Moving Premises…
Oakhill Embroidery is growing! There will soon be a new person at the head of the business – so we'd like to explain what that means to new and existing customers – and tell you a bit more about some of the exciting changes you can expect to see in the coming months.
Some time ago, Linda and I began searching for someone who could take Oakhill Embroidery to the next level – letting us take a back seat so we can enjoy retirement after nearly 40 years of creating and running the business.
We're delighted to tell you that we've found that person – and we're excited to tell you a little bit about what that means for Oakhill Embroidery.
Gareth Jones has taken over the day-to-day running of Oakhill. Gareth is an experienced print and embroidery workshop owner who has an outstanding track record of delivering superb products and services to businesses – both around the wider London area, and across the UK.
Gareth hasn't just proved to us that he's got the technical know-how needed to run a busy embroidery company – but also that he's got a passion for local businesses that will make sure Oakhill customers continue to receive the very best service going forward. In fact, he's already picked out a couple of areas where Oakhill can build on the excellent service you already receive.
There will be some changes moving forward – but, crucially; nothing will interrupt production – and nothing will interrupt the our focus on looking after our customers.
Soon, Oakhill will be moving to new premises in Keston. When we're there, we'll be adding a range of free delivery options – including same-day delivery – so we'll be getting your orders to you even quicker than before. Of course, you're still welcome to call in and collect if you'd prefer.
We know when businesses grow it sometimes means you lose the personal touch you've enjoyed – but we can assure you this will not be the case here at Oakhill. What's more, we can say with certainty that prices will not increase, and quality will not drop. We promise the same outstanding products – just with someone different answering the phone!
Over the coming weeks and months, Gareth will endeavour to get in touch and introduce himself to every Oakhill customer. Please don't panic if you don't hear from him for some time though – with nearly 40 years of trading, there are a lot of people to talk to!
We're delighted to have the support of so many long-term customers through this change – and you can rest assured that the exceptional products and keen eye for detail you've come to expect from Oakhill Embroidery isn't going anywhere!